Welcome to Watts Up Inc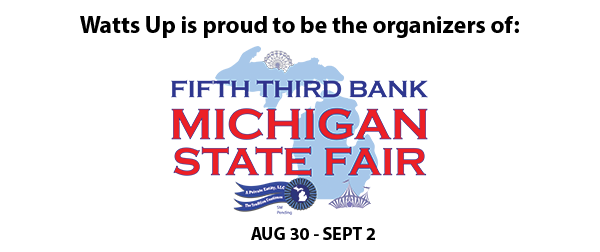 Watts Up, Inc. is a full-service Event Marketing firm specializing in: community events at public and private venues, event and product marketing, brand introduction, advertising plan development, and services.
Our efforts in Event Marketing have developed over the years, and include: quality entertainment experiences for the entire family at no admission charge underwritten by corporate sponsorships, an internet site that attracts hundreds of thousands of visitors looking for event information, and consistent media coverage which produces millions of impressions via print, radio, and television coverage of our events.
Watts Up, Inc. produces events that set the standard for the market and draw the largest audiences within the market. Many of our events have a long tradition, continuing annually for 20 years.
We strive to design events that provide a first rate experience for our audience, and create abundant marketing impressions and sales for sponsors. Due to a combination of quality media relationships and aggressive event marketing efforts, our events receive broad, comprehensive coverage in local, regional and national print and electronic media.
The advantage of exclusive access to high potential audiences and media coverage has made our events attractive, innovative advertising venues for major corporate sponsors. Sponsorship participation has consistently included a combination of fortune 500, regional and local corporations.
We generate all our advertising media in house through our production studio. Our experienced design staff works to create high energy, effective messages in print, on the Internet, for radio, and television. This capability allows us to reduce overall project costs while improving marketing and advertising integration.
Watts Up, Inc. events provide new venues to market existing products and are wonderful test markets for new products. Several levels of advertising and sponsorship are available to meet your needs. Our event staff has experience which is second to none, and we are ready to work with you to fulfill your marketing goals.
Recent News
June 29 - July 1, 2012, some of the best in Country music will be heard downriver when the Taylor Heritage Days opens June 29.