Meijer Country Jam At The Taylor Summer Festival
July 11 - 12, 2008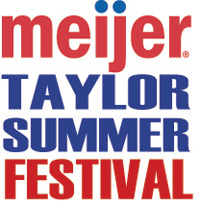 July 11 and 12, 2008, some of the best in Country music will be heard downriver when the Meijer Taylor Summer Festival opens July 11. The family-oriented event is free of charge and runs through Sunday, July 15, at beautiful Heritage Park in Taylor.
The 2008 Meijer Taylor Summer Festival represents one of southeast Michigan's most popular summer family events and celebrations of Country music. This year, the festival's headlining performers include some of the hottest new school, old school, Country artists in America on Friday and Saturday.
High gas prices do not have a spell a boring summer. The Meijer Taylor Summer Festival is the region's best buy for families looking for events that are minutes away but guarantee hours of fun. Officials today announced the 2008 concert line up featuring: Terri Clark and Westland native Josh Gracin at a free concert on Friday July 11 preceding the annual fireworks, and The Charlie Daniels, Confederate Railroad, and newcomer Emily West for only $10 on Saturday July 12.
On Friday one of the area's finest Fireworks displays will follow the concerts at approximately 10 p.m. Friday. (Please note: Saturday is the alternative date for the fireworks if weather dictates).
The Meijer Taylor Summer Festival runs July 11-12 at Heritage Park, in Taylor at Pardee and North Line Roads. Friday July 11 is all free of charge, and features Taylor resident Lynnae Winnie, and local artist Justine Blazer. Activities include fireworks sponsored by Masco and free concerts with Terri Clark, Josh Gracin and Lynnae Winnie.
There are ticketed concerts on Saturday July 12. Tickets go on sale 10 am Friday May 30 for the Sunday July 12 concerts featuring The Charlie Daniels Band, Confederate Railroad, Emily West and Red Hill. Tickets are only $10 for the day's entertainment and they are limited. They can be purchased at all Meijer store locations in Taylor, Southgate, Lincolin Park, and Woodhaven, and online at http:www.ticketmaster.com
Gates at Heritage Park open at 3pm on both Friday July 11 and Saturday July 12. There is parking available on site and at satellite locations with shuttle bus service in the Heritage Park area.
Legendary country superstar Charlie Daniels was inducted into the world-famous Grand Ole Opry earlier this year after making music for 50 years. His signature song, "The Devil Went Down to Georgia," topped both country and pop charts. He has had hits on the rock, country, pop and Christian charts and awards from the Country Music Association (CMA), Academy of Country Music (ACM), TNN/Music City News Awards, and the Gospel Music Association (GMA).
Confederate Railroad is known for their high-energy combination of honky-tonk rockers, sensitive ballads, and offbeat humor. Their hits include "Queen Of Memphis," and "Daddy Never Was The Cadillac Kind".
Emily West, with her hit "Rocks in Your Shoes" is a new voice in country music. Red Hill is a Detroit based band whose debut CD, You Get What You Get, won the 2007 Detroit Music Award for Outstanding Country Album. Their music is described as "flavorful full-bodied country music with a blues-rock edge".
Terri Clark is a Canadian artist whose first single "Better Things To Do" reached #3 on Billboard's Hot Country Singles & Tracks. Josh Gracin, a former marine and Westland native describes his shows as "live-wire, rocking country that blends wit and wholesome fun; inspiring story songs about being true to oneself; moral tales rich with Middle-American values and a strong spiritual core; and songs that celebrate the down-to-earth lifestyle".
Justine Blazer received three nominations in 2007 for the Detroit Music Awards for Outstanding Vocalist, Outstanding Songwriter and Outstanding Artist, and one nomination for "Country Album of the Year" in 2008. She won the Detroit Blues Challenge competition in 2007.
In addition to great music, the festival features a carnival, mud volleyball, a Vegas style casino and a major softball tournament, creating great fun for the entire family. Fireworks Night on Friday, July 11, typically draws over 150,000 people, making it one of the largest community sponsored pyrotechnical displays in the region.
All entertainment takes place at Heritage Park on Pardee Road, between Goddard and North Line Roads.
The event combined with the Taylor Summer Festival with the top-name entertainment of the Country Jam in 1999. Drawing families from throughout metro Detroit area, more than 350,000 people attended the festival in 2007. Proceeds are donated to the Junior League World Series and the Taylor Recreation Department.